A masterpiece of a restructuring project

Restructuring is one of the hottest items of our days, due to financial aspects and increasing vacancy of buildings.
Hageveld in Heemstede (The Netherlands) has been confronted by that problem. The relatively young building has been build in 1923 and has not been used as Episcopal seminary since 1968, when it has been transformed into a atheneum. In 1997 the diocese of Haarlem came to the conclusion that due to the increasing vacancy of the porch the building was no longer feasible.
Restructuring the building by transforming the porch into apartments and the rear building into student accommodations appeared to be the only feasible solution.

In order to maintain the quality of the historical estate a study has been prepared by the landscape architecture office Alle Hosper at the request of school and developer Synchroon (formerly Hopman Interheem Group).
Stijlgroep landscape and urban design has been approached to step into this process and to support the elaboration of the analysis.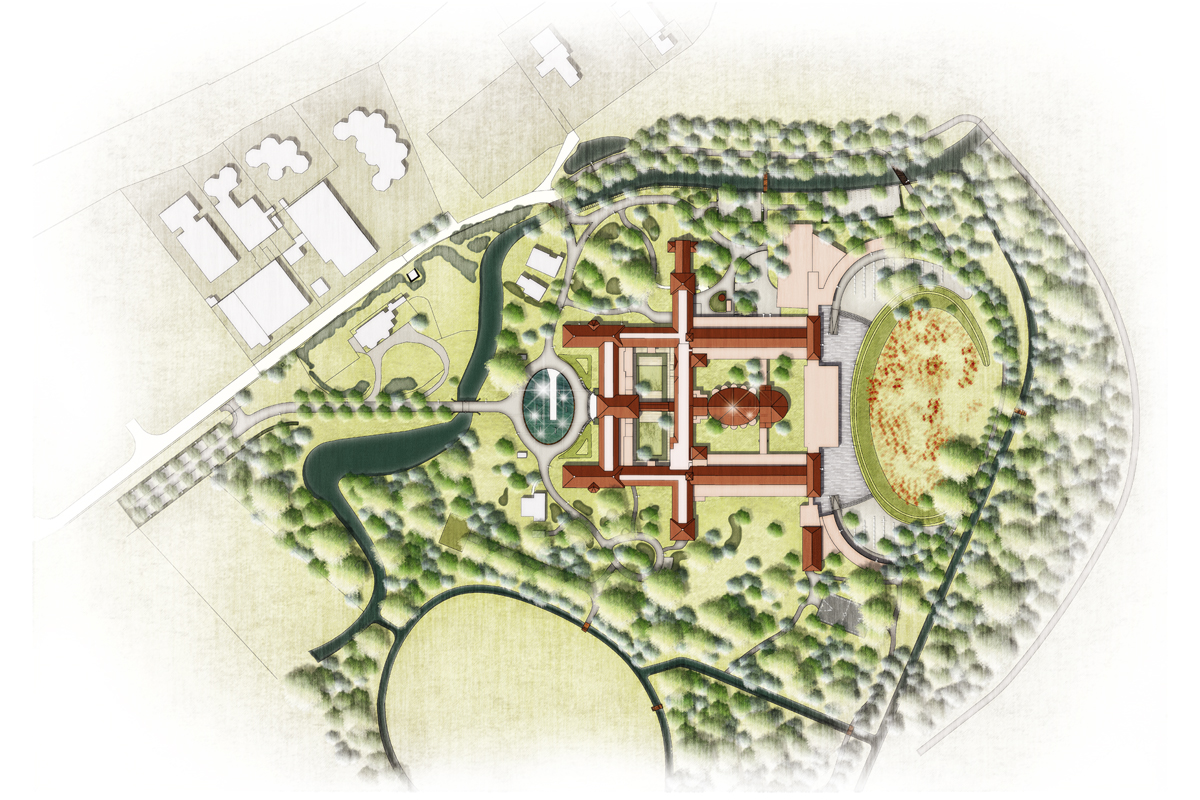 The existing parkland was very much dominated by a accumulation of several parking spots and a large number of parked cycles. The bicycle parking has been clustered next to the two wings of the rear building. These areas are sunken relative to the surrounding and are hidden from view by gentle slopes around the large lawn area, the Cour. By deflecting the lines and using large hedges, parking spaces has been designed as almost invisible.
The parking space for the new apartments has been integrated in the existing formal layout and been designed as an underground parking garage in front of the main entrance to the building. Apart of the entrance/ exit is the whole garage hidden under a large pond. By relocating all parking facilities from the central area towards the outskirts of the estate the lawn area could be extended back to the façade and the building is finally placed again with its feet in the estate.


Parking garage at daytime


Parking garage at nighttime
Numerous awards and nominations (Finalist Dutch Design Awards 2008, Arie Kepplerprijs 2009,
yearbook Landschapsarchitectuur en stedenbouw 2010, Nomination Best Private Plots 2010) prove the efforts of all involved parties as great success.
With respect for historical background and awareness of contemporary issues a place has been created with a unique new old charisma.