Stijlgroep landscape and urban design was formed 30 years ago, in Gouda. After a while, we relocated to Rotterdam: first to the North Island and, eventually, to the so-called South. We became one of the first tenants to occupy the former Nestlé warehouses on Piekstraat. By setting up base in a "forgotten" corner of Feijenoord, we hoped to encourage other businesses to set up here. Naturally, it's exciting from an entrepreneurial perspective to invest in premises in an environment with an uncertain future. So we are extremely proud to have been successful: at present, the entire premises are leased to other companies. Respecting the history of this building, our office has since been transformed into a future-proof working environment. It is an environment in which we find our inspiration and feel at home.

Just as we were won over by the genius loci in Piekstraat, in our assignments we draw our inspiration from the singularity of the location. When alterations to a location are unavoidable, it's very important to get in tune with the "spirit" of the place. As well as the tangible landscape, therefore, we also take account of the invisible landscape, such as natural and historical land features and the social context.  Taking this singularity as our guide and seeking a balance between spatial quality, the desired perception, functions and ecological values, we showcase the location to its optimum potential.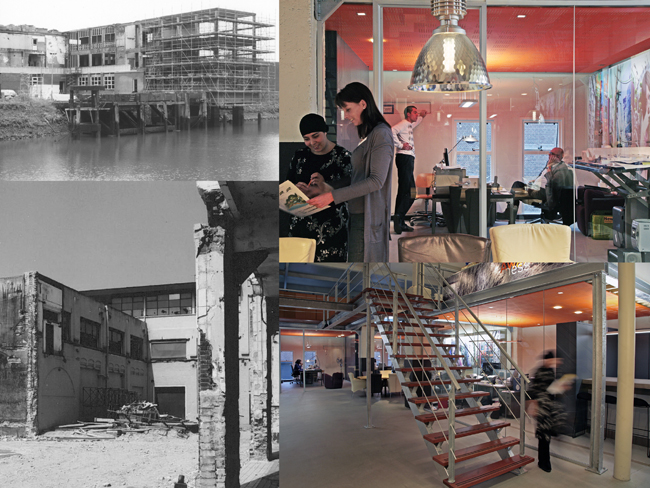 After spending more than 10 years travelling through the surrounding neighbourhood to Piekstraat, we have got to know its character well. We have no end of ideas for this area. By mobilising forces on the island, we hope to give a boost to the process of rejuvenating the Piekstraat area. We have held a number of brainstorming sessions with a core team which have resulted in a big conference in mid-November. 90 potential delegates have been invited to attend this conference, to search together for development axes for this area. Bearing in mind spatial, economic, social and other aspects, without eschewing issues such as the environment and education, we hope to come up with an action plan so that everyone who uses the area will feel "at home" in a rejuvenated environment – which, needless to say, retains all of its existing good features.
That's what makes our work so enjoyable: singularity in all forms, big and small.