The inhabitants of Rotterdam are proud of their modern and booming city (although we don't take it to serious; hence all the nicknames we have for new buildings). People from outside either love or dislike the city. One thing is for sure: you are not coming to Rotterdam for the old buildings and it's historic sites. That's probably why some Rotterdam people say that our biggest rival, Amsterdam, is just a big open air museum. Of course that's just a unqualified opinion some people have. But now we (read: Rotterdam) have a new tool to convince the world that Rotterdam has much more to offer than Amsterdam, for instance; a great skyline.
Photographer Roelof de Vries created a digital portfolio of over 60 panoramic pictures shot from many rooftops located all over the city. On the newly launched website dakvanrotterdam.nl you can hop from one rooftop to another discovering Rotterdam from above.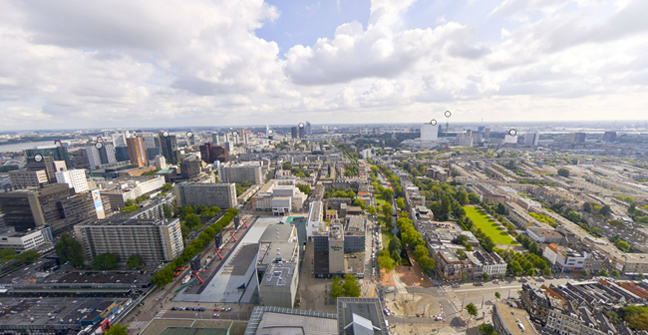 It's a great way for inhabitants to get to know there own city in a different way, but also a nice preview for future visitors and tourists. In my opinion it's even interesting for urban planners and landscape architects because urban structures like green arteries and infrastructures become even more readable/distinctive compared to for instance looking at google maps or a street plan.