Sometimes, the true power of a design only becomes apparent in hindsight. It was a whole year ago that Stijlgroep was invited to be one of a select group of eleven (!) firms to produce a town planning design for the development of an area in Brielle. In retrospect, this was the first indicator of the sensitivity and complexity of the task.
The task
After analysing the task, it seemed appropriate to focus first on restoring lost qualities, such as the relationship between the old fort and the river, which is now enclosed by dikes, and securing recreational green space for current and future residents. This would form the framework for the new residential districts which, in terms of size and scale, fitted nicely into this structure. Another particularly pressing issue was industrial noise. With the expert assistance of our collaborators, Cauberg Huygen, we proposed that, rather than diverting the noise (which is relatively pointless with industrial noise in this location), we should use the landscape to muffle it.

A sea change in the process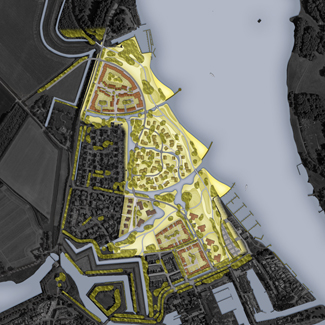 Stijlgroep was unanimously selected for this task, by both the municipal authorities and the residents' delegation. Not until the time came to present the design vision to the administration and the feedback group did it become clear to what extent planning issues in the municipality had divided opinion in recent years. However, the choice made during the process to discuss quality for the residents and the municipality, rather than quantity, and to identify ten core values which guarantee a sustainable development strategy for the future and have these committed to paper by the administration, brought about a sea change in the process.
Of course, some of the current residents of the surrounding neighbourhoods have expressed concerns, and would prefer nothing to be built "in their backyard". But, if the plans do go ahead, they would like to be able to choose their next home there. And, because the vision provided a solution to the issues that split the parties, the Council, which was clearly divided over earlier plans, was able to rally behind the plans to build in the area of the fort that lies outside the dikes.
Building bridges
You always draw up a plan in which you believe. Often, you produce a plan which transforms threats into opportunities. Sometimes, you produce a plan which builds bridges between parties and enables the stakeholders to finally unite behind the task and the chosen solution. Designs are not castles in the air. Nor are they cathedrals. Sometimes, it's a case of building beautiful bridges.