Last weekend was the 24th edition of the 'Dag van de Architectuur'. This year's theme was '24 UUR Architectuur'. Hereby the focus was on the usage of buildings throughout the entire day to increase their contribution to the city.
In Rotterdam, people could visit the Schieblock, Central Station, De Doelen and Central Post office. The Hofpoort formed the center of the activities during this event. This office building was designed for Shell by Kees Abspoel and built in 1956 to 1960. It was extended with 26 floors in 1973 to 1976, according to a design of Zanstra, de Clerq Zubli and Lammertsma. After the departure of Shell, the office building became (partly) vacant. During the Dag van de Architectuur each floor of the Hofpoort had a different function, such as city camping, roller skating, restaurant, art exhibitions and many more. Suddenly the Hofpoort had became 'the place to be'.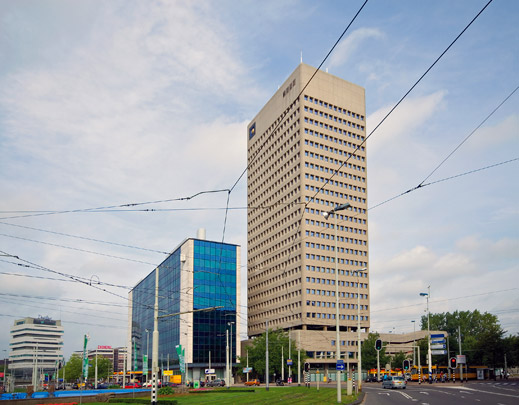 On the second floor of the Hofpoort was the announcement of the winner of the Archiprix 2013 for the best graduation project in the field of architecture, urbanism and landscape. All 27 nominees presented their plans, with small discussions in between. Final winner was Tara Steenvoorden from the Amsterdam Academy of Architecture with her plan Pas-de-Deux.
Although the level of the entries was very high, the issues where the student projects were dealing with were not very surprising. Many of the student projects dealt with current topics as the shrinkage, reuse of vacant urban spaces and user participation. But nevertheless it showed very clear how today's designers are not only focussing on their own profession.  This multidisciplinary approach will help the students to deal with upcoming challenges in practice.
Again, the Dag van de Architectuur was a great event. It succeeded in raising the awareness of current problems and showing the many innovative ideas to the public.