Maasvlakte 2, the newest extension of the Port of Rotterdam, is approaching it's first major deadline. The plan which should be totally completed in 2035 is closing an important chapter halfway 2013. From this point on the first of 4 harbours will be in use.
Of course this is a import moment as Maasvlakte 2 has been developed in order to create those 4 harbours. But for us, the public, there is a earlier deadline which deserves our interest. Halfway 2012 two new beaches, a so called intensively used beach and a extensively used beach, will be finished and opened to the public.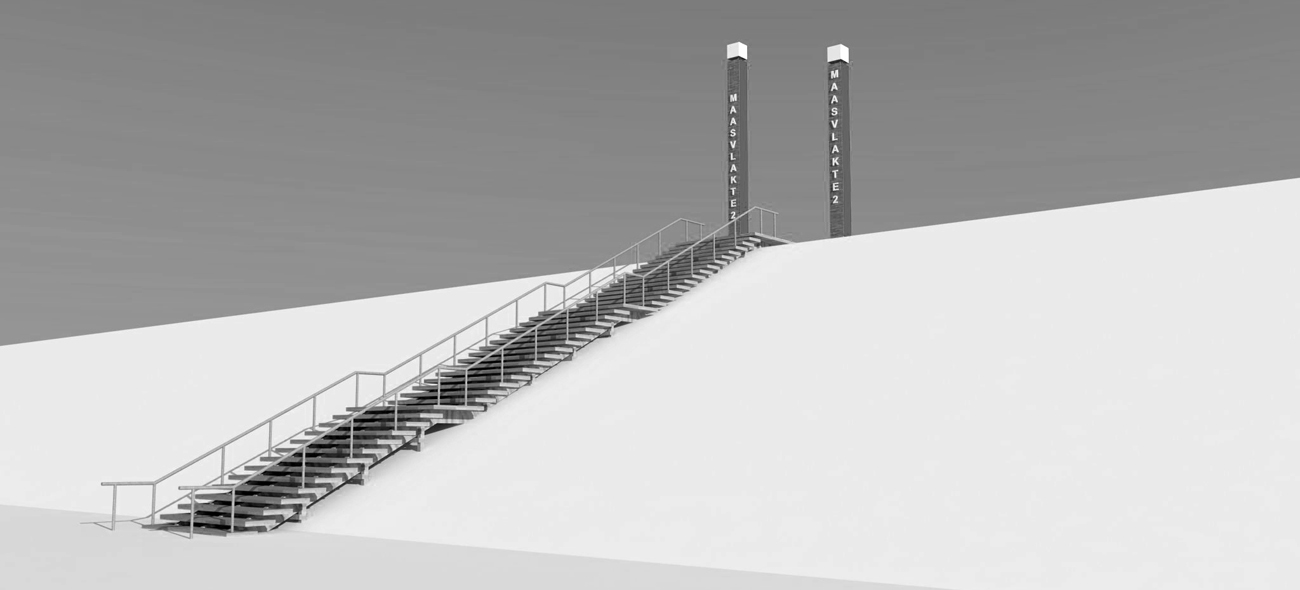 The beaches themselves don't need much work anymore: sand is sand after all. But what are you going to do about a huge sand dune (8 meters high and 27 meters wide at the top) that divides the new parking lots from the brand new beach?
As for all things on the Maasvlakte, there is only one possibility: build something big.
8 giant dune crossings will be constructed to enable people to conquer the dune and enjoy the beaches. 6 crossings include stairs on each side and will connect the newly constructed main parking lots with the beach. The remaining 2 crossings are both single sided stairs which provide access from two small parking lots to the extensively used beach.
For now the plans for the dune crossings are finished and presented to the city council for construction permission. One thing has become obvious: in the end we are not only going to make dune crossings and parking lots. Our commission has been extended in order to design a few other elements. In addition the current plan now also contains orientation elements at each dune crossing which will consist of two 8 meter high wooden mooring poles with a integrated text and a distinctive colour. Furthermore a bird watching facility will be build. On top of the dune extra sand hills will be created to make it look more natural and the entire plan will be provided with signs (not only containing directions and rules but also including information about the nearby nature reserve). Also the existing beach nearby, which has been closed during the construction of Maasvlakte 2, will get a facelift to get it up-to-date again.
We are looking forward to the final result which we will inform you about on this blog.


For those who love numbers, here are somé 'hard facts':
31000   m2 Parking lot
210      pc  Boulders,1.50×1.00×0.80m
650      pc  Concrete slaps (paving) 2x2m
105      m   Orientation elements (Basralokus mooring poles)
29000   m3 Sand used for creating extra hills
275      m   Wooden dune crossings (4 meters wide)
54        m   Concrete stairs (part of 3 of the dune crossings and 10 meters wide)
For some even more impressing numbers check the weekly update of the Port authority.