In the future there might be another way of street lighting! The use of LED lighting for the public space will have a competitor.
Inject the leaves of a tree with nano-particles and what you get is an alternative method of street lighting. The 'discovery' of 'light-emitting trees' was a pure fluke, however.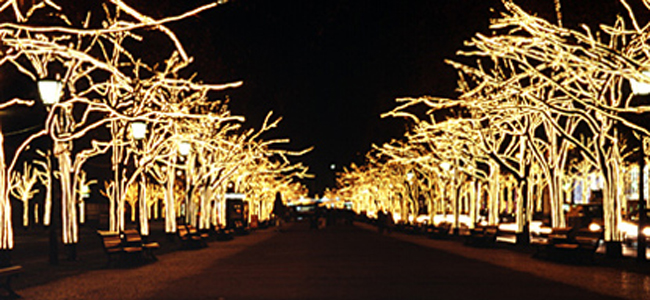 Substitute
Scientists in Taiwan were seeking a substitute for phosphorus powder in the production of LED lights. Phosphorus powder is necessary in the production of white LED lights but that powder is not only toxic but also expensive. Head of Research Yen-Hsun Su came up with the idea of implanting nano-particles of gold whilst searching for this substitute. When these particles are injected into the leaves of Bacopa Caroliniana, an aquatic plant that grows in mid- and southern regions of the USA, the chloroplasts emit red light.
Red glow
The red glow appeared when high-wavelength ultraviolet light was shone onto the gold particles. The particles produced a bluish fluorescent glow that induced a red glow in the surrounding chloroplasts.
Optimistic
Using a tree as street lighting is certainly more aesthetically-pleasing, but as yet it is only possible in theory. And what happens if the injected trees lose their leaves? Yen-Hsun Su is still optimistic, though: "In the future, we could use this technology to illuminate streets using the trees that line them. This will not only save energy and reduce light pollution but also absorb more CO2 from the air, seeing as the light causes the chloroplasts to photosynthesise", he explained in an interview with Chemistry World.
Source: verkeer in beeld / HBVL