Special lighting elements have recently been delivered to Maasstad Hospital. Please read the previous post and see the photographs of these the lighting elements.
However, something that cannot be seen from the photographs are the foundations of these elements. An item of technology that was relatively new to us, screw anchors, was used for this purpose. The use of screw anchors themselves is actually nothing new and has, in fact, already been demonstrated in Germany for a number of years now. However, the company Easy Foundation has also been using Krinner screw anchors for its construction projects in the Netherlands in recent years.
Stijlgroep instantly recognised the benefits of this construction method and we have since already stipulated that these screw anchors be used in an upcoming project, as a foundation for a number of custom-made benches.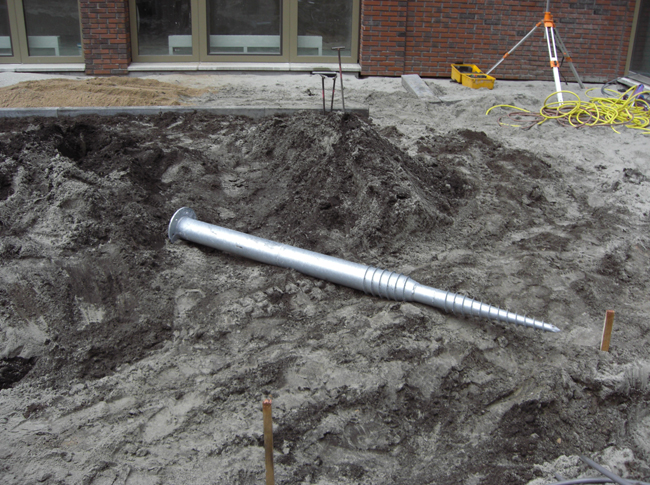 Screw anchors offer a number of benefits when compared with more traditional methods such as pile foundations or cast foundations. The benefits include the following, to name but a few: the anchors can be installed quickly, weight can be borne on them immediately and they are relatively cheap to buy.
A wide range of dimensions have been used for the patios at Maasstad Hospital. The largest bamboo masts have been positioned on two coupled anchors, each measuring 2 metres in length, the smallest bamboo masts have been positioned on one anchor, ranging from 1.20 to 2 metres in length.
The lamp posts have each been positioned on four interconnected anchors measuring 2 metres in length and the green screens have been installed with one anchor of variable length below each stand. All foundations have, of course, been designed to withstand compression, tension and lateral movement and comply with the requirements set in this regard. This means that the construction permit required for the elements was issued without any problems.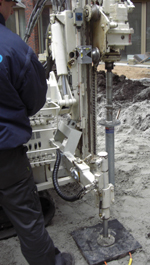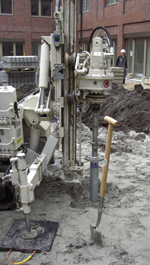 After Stijlgroep was given the go ahead for the expansion work, a total of approximately 120 anchors were installed in only a few days; the large anchors were installed using a specially-designed mobile spiral drilling unit on caterpillar tracks, and as was the case with other machinery and materials required for the patios, these were lifted over the roof. The smaller anchors were installed using a hand-held drill.
Due to the fact that only a small amount of workspace was needed, the work schedule was flexible and only a short space of time was needed to install the anchors, it was also possible to simultaneously construct the patios without hindrance.