Cities are constantly changing: new buildings arise, older once getting restored and other ones getting demolished to make room for new developments. The spot which have been cleaned of former buildings often look liked forgotten spots without any use and purpose till the moment the new developments are going to start… but more and more often artists, municipalities and all kind of different groups of users recognized the great opportunity to use these areas on a temporary base. One of these spots is the space behind the city hall of Rotterdam. Where in the future the new council office will arise , is for the time being a green town square created.
The facade of the monumental building came in sight after the demolition of the old buildings. In order to make it appearance more attractive 2012architecten has made a design for a vertical garden.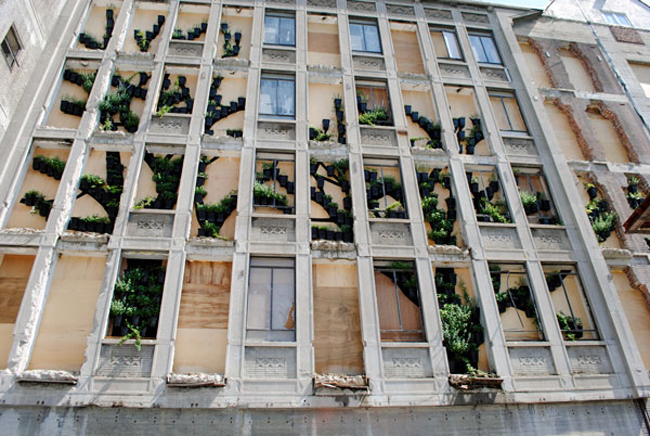 RTV Rijnmond gives us a look behind the scenes how the irrigation system of the plants has been designed (which is without any doubt necessary as The Netherlands have the driest season since decades).
If you want to read more about the new council office visit their site Stadskantoor Rotterdam.
Another temporary art project I have known was one around the corner where I live, at the Beukelsdijk in Rotterdam. The buildings, which were meant to be demolished at any time, did get a bright blue colour.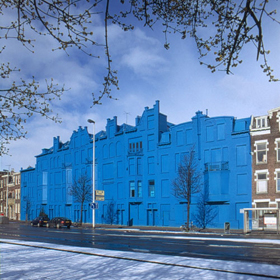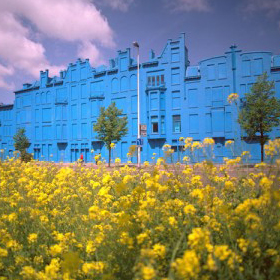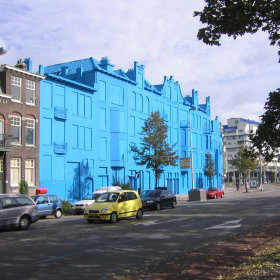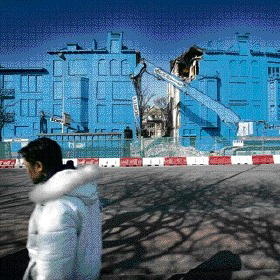 Both winter and summer time it was nice to pass this piece of art instead of the gray and dull ruinous buildings. And indeed this is a good example for temporary art as it is already gone. So if you gave it a thought to pass by, I am sorry but you already too late… But no reason to start being sad: fortunately there are uncountable pictures of this row of ordinary houses (it became one of the most photographed houses in the whole neighbourhood…).
I love it when art is used to create a positive atmosphere at places you will not expect. It puts a smile on my face! …and it does not have to be expensive.