There are only a couple of weeks left before the first highway worldwide will be seen in a new light: LED lighting elements along the A44.
In times where all, governmental institutions as well as private clients, are aware of sustainability and its importance, we as landscape architects are very much asked to respond to this topic in our designs. And I am not only speaking of sustainable products, eco friendly banks and water SUDS… lighting is one of the biggest challenges in our everyday work: to combine the wishes of the client, the precondition of applying sustainable technologies and our design.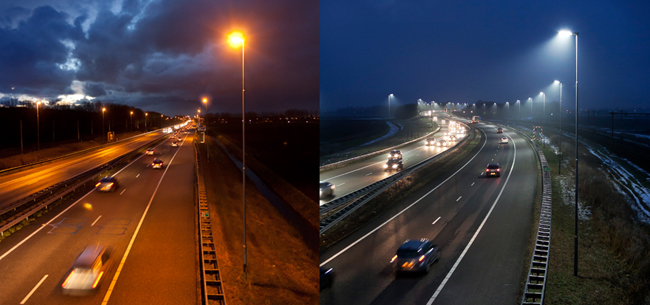 LED is one of the most upcoming technologies being applied more and more in public realm schemes. By using LED lighting the energy balance can be dramatically be lowered.
Rijkswaterstaat – in collaboration with Philips, contractor Van der Lee and Spectrum consultant – has installed LED lighting at a total length of 7km along the A44, one of the busiest highways feeding commuters into and out of Amsterdam. The installation will be officially switched on in February. At this project the energy balance and the CO2 emission will be lowered by forty percent.
Read more about it on the websites of Rijkswaterstaat and Philips.