Being involved in writing a blog, made me even more aware of the fact who many amazing information is out there in the worldwide web… there are even so many users, that experts predict that on the 2nd of February no more IP addresses (based on the IP4 version) are available. Already that fact would be worth its own blog, but no… I actually wanted to let you see an amazing design competition I founded, when I spend some time in the depth of the web.
The ARC International Wildlife Crossing design competition has chosen 5 finalists to come up with a design proposal which can improve the safety for both the people and the wildlife. The jury has asked to develop a design which is not only applicable at the I-70 highway corridor West of Denver, but which can be implanted in whole North America.
The idea of wildlife bridges is not new, in the Netherlands all variations of "ecoducts", which is the Dutch equal for Wildlife bridges, varying in usage and size can be found. What really caught my intention for this competition was the connection of two factors: ecology and aesthetic are combined with each other in very appealing designs… (In case you have read my last blog you will know that of course the renderings draught my intention initially).
Watch out for the final design proposals: …
This design proposes a low tech system of layering wood planes to achieve this "nature like" appearance.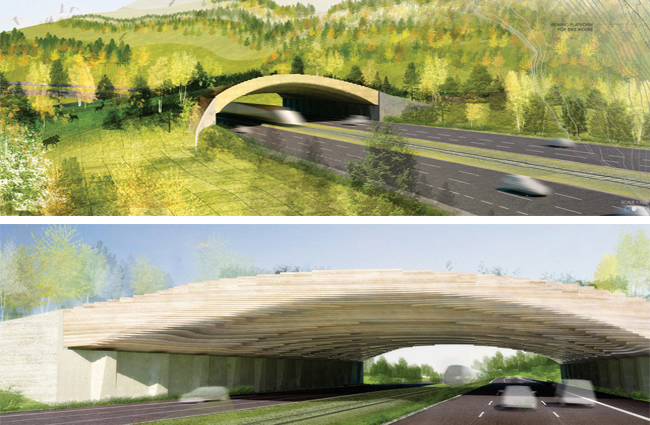 Balmori Associates (New York) with StudioMDA, Knippers Helbig Inc., David Skelly, CITA, Bluegreen, John A. Martin & Associates, and David Langdon.



A lightweight modular system, which is adapting modern roof deck construction techniques and offers a pre planted modules.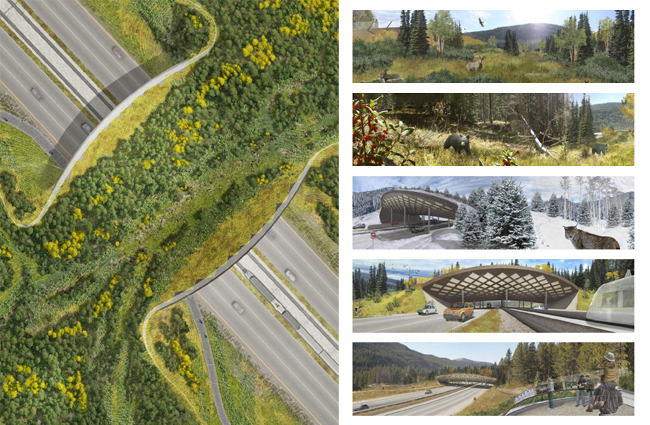 The Olin Studio (Philadelphia) with Explorations Architecture (Paris), Buro Happold (London) and Applied Ecological Services.



The most extravagant design proposal in my opinion… and quite West 8 like. I love it as for it s sculptural appearance. And it's a very clever solution as well: By splitting up the bridge into three "paths" the footprint can be minimized and the element of the red bridge continues as red fence along the highway.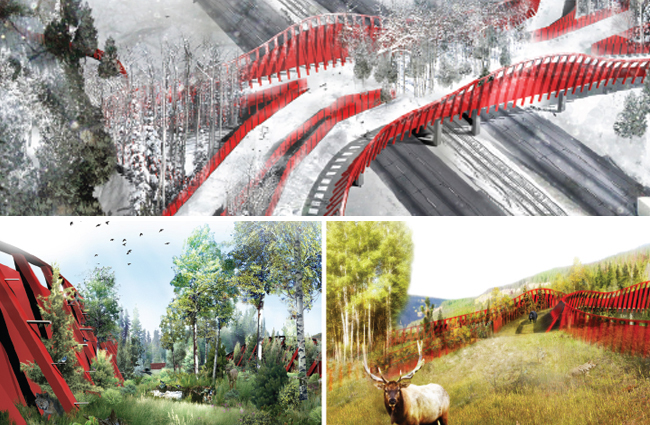 Janet Rosenberg & Associates (Toronto) with Blackwell Bowick Partnership, Dougan & Associates, and Ecokare International.



A design proposal based on an amazing lightweight modular system which can be amended to every specific location.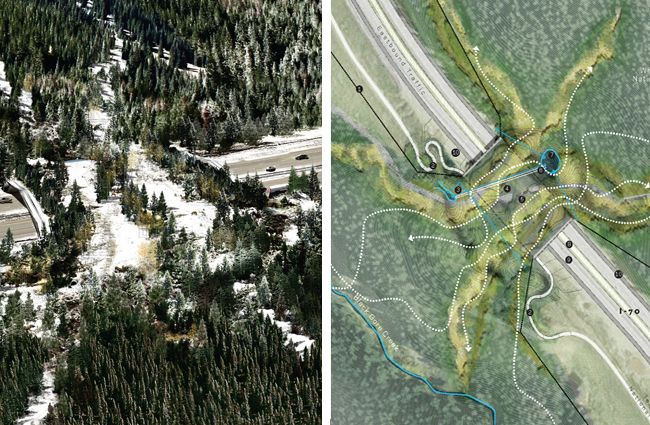 HNTB with Michael Van Valkenburgh & Associates (New York) and Applied Ecological Services, Inc.



A very elegant solution… based on the concept of three curves: the first curve is the actual bridge, the second one the ground level and the third and last one the continuous movement of the vegetation.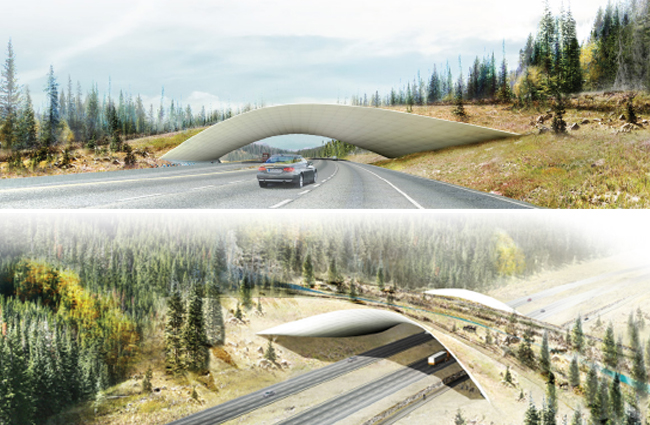 Zwarts & Jansma Architects (Amsterdam) with OKRA Landscape Architects, IV-infra and Planecologie.



And the winner is…… well I am not telling you. Who is your favourite one?
Check out ARC-competition to find more images and information about each proposal… and of course to find out who was chosen as winner.