Our competition entry for the new Vartov square in Copenhagen introduces a new element onto the historic city.
The square at Vartov is located in the beating heart of Copenhagen. The direct presence (neighbourhood) to the City Hall Square makes this a prominent spot. Indeed it is the entrance to the medieval centre and one of the main shopping streets of the Danish capital.
The extravert location has a significant number of stakeholders and users. These individuals and groups use this urban space as tourists, residents and shopping. All these factors exert 'urban pressure'.
We think the Vartov square is a part of a framework of Urban spaces which are situated along the Vester Volgade. This framework of 'Floes' get's a new dimension at the Vartov, the design is inspired by the breaking up of ice through global warming at the poles of our planets.
Pressure, Flow, GO, stay&GO , stay….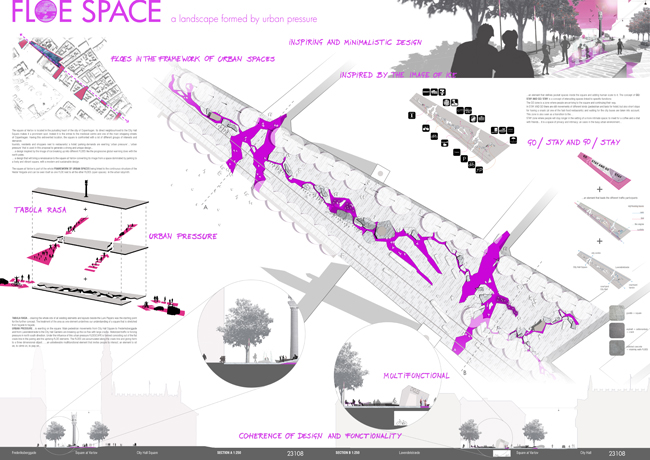 Urban pressure is exerting on the Vartov Square: Main pedestrian movements from City Hall square to Frederiksberggade and from Lavendelstraede to the City Hall Gardens are breaking up the ice floe with large cracks. Motorized traffic is forcing pressure in north south direction. This influence to the Floescape is formed consisting of the flat crack line in the paving and the uprising of the FLOE –  elements. These FLOES are accumulated along the crack line and giving form to a three dimensional object…. An unbelievable multifunctional element that dares people to interact, to sit, climb, to play upon.